Residential Metal Roofing

Building a new home in Sydney or surrounding regions? If you are currently in the planning stage of building your dream home, we recommend that you consider using strong, durable, steel roofing and cladding. Colorbond steel roofing is not only affordable, it is long lasting, has an extremely large range of colours and can be customised to many roof types and profiles.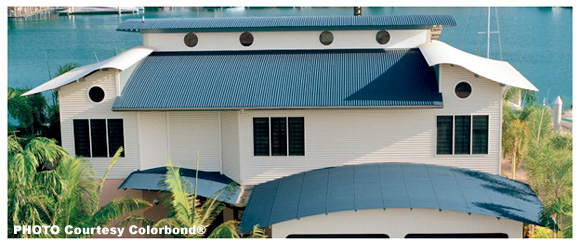 K & M Roofing are highly experienced in all types of roofing structures, from skillion (flat roof) to gable, curved, pitched hip and valley and mansard profiles. Consider weather tight Colorbond for your home extension or re-roofing project, you won't be disappointed with the results!
No other roofing product gives you as much flexibility in design concepts as Colorbond® steel, and there's no other metal roofing team like K & M Roofing, ready to assist you with your unique project!
Call K & M Roofing, your professional steel roofing team, to find out how we can help you achieve a fantastic looking roof with a great finish! Phone us on 0419 016 575 before you build. If you prefer, you can send us an email from here.






Contact Us Now
K & M Roofing – Sydney
Tel: 1300470331
Mobile: 0419016575
Fax:  02 9820 1790
KM Roofing Pty Ltd Lic. No.:53376C
Services
Commercial Metal Roofing
Starta Roofing
Commercial Roofing Fixers
Residential Metal Roofing
Metal Roofing Products